Keep learning!
Stay curious!
Ask lots of questions!
Share what you know!
Below you will find links to various resources, my Goodreads book list which includes a more current list of what I'm reading, and a list of some of the "classics" that I recommend. Please let me know if you've found a useful resource that you'd recommend, as I'm always interested in what's out there.
Additional Resources and Useful Links
Current Reading List
Classic Books
Leadership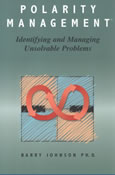 Johnson, Barry PhD Polarity Management: Identifying and Solving Unsolvable Problems (1992). Amherst: HRD Press ISBN 0-87425-176-1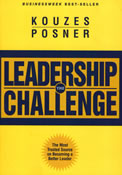 Kouzes, James M. and Posner, Barry Z. The Leadership Challenge: How to Keep Getting Extraordinary Things Done in Organizations (2002 3rd Edition). San Francisco: Jossey-Bass Pfeiffer ISBN 0-7879-6833-1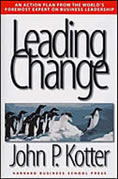 Kotter, John P. Leading Change (1996) USA: McGraw Hill Ryerson College Division ISBN 0875847471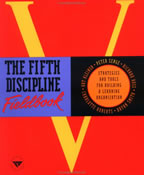 Senge, P., Kleiner, A., Roberts, C., Ross, R., Smith, B.
The Fifth Discipline Fieldbook (1994).
New York: Doubleday
ISBN 0-385-47256-0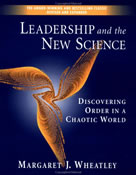 Wheatley, M.
Leadership and the New Science, (1992).
San Francisco: Berrett-Koehler Publications, Inc.
ISBN 1576751198
Enhancing Communication/Managing Conflict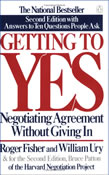 Fisher, Roger and Ury, William
Getting to Yes (1991 2nd Edition).
Penguin Books: U.S.A.
ISBN 0-14-015735-2
Patterson, Kerry, Grenny, Joseph, McMillan, Ron, Switzler, Al
Crucial Conversations: Tools for talking when stakes are high (2002)
New York: McGraw Hill
ISBN # 0-07-140194-6
Moore, Christopher W.
The Mediation Process: Practical Strategies for Resolving Conflict (1996 2nd Edition).
Jossey Bass Publishers: San Francisco
ISBN 0-7879-0248-9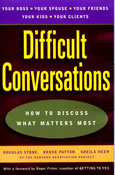 Stone, Douglas; Patton, Bruce; Heen, Sheila
Difficult Conversations (1999).
Viking Penguin: U.S.A
ISBN 0-670-88339-5
Managing Change/Personal Development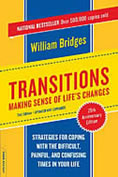 Bridges, William
Transitions: Making Sense of Life's Changes(2004 2nd Edition)
USA: Da Capo Press
ISBN 0-7382-0904-X

Magruder Watkins, Jane and Mohr Bernard J.
Appreciative Inquiry: Change at the Speed of Imagination (2001)
San Francisco: Jossey-Bass/Pfeiffer
ISBN 0-7879-5179-X

Csikszentmihalyi, Mihaly
FLOW: The Psychology of Optimal Experience (1990).
New York: Harper Collins
ISBN 0-06-016253-8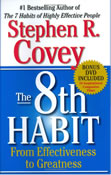 Covey, Stephen, R.
The 8th Habit (2004).
New York: Free Press
ISBN 0-684-84665-9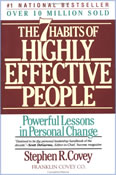 Covey, Stephen, R.
The 7 Habits of Highly Effective People (1990).
New York: Simon & Schuster
ISBN 0-671-70863-5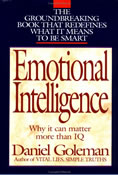 Goleman, Daniel
Emotional Intelligence (1995).
Bantam Books: New York, Toronto
ISBN 0-553-09503-X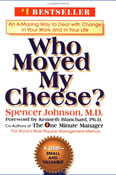 Johnson, Spencer
Who Moved My Cheese (1998).
New York: G.P. Putman's Sons
ISBN 0-399-14446-3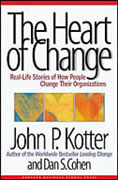 Kotter John P.
The Heart of Change: Real Life Stories of How People Change Their Organizations (2002)
USA: Harvard Business School Press
ISBN 1578512549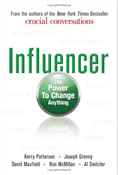 Kotter, John P. Leading Change (1996) USA: McGraw Hill Ryerson College Division ISBN 0875847471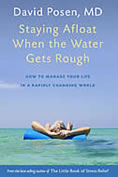 Posen, David B
Staying Afloat When the Water Gets Rough: How to Live in a Rapidly Changing World (1998)
Toronto: Key Porter Books
ISBN 0-55263-012-9
Team Development
Katzenback, Jon R. & Smith, Douglas K.
The Wisdom of Teams (1993).
New York: HarperCollins Publishers Inc.
ISBN 0-88730-676-4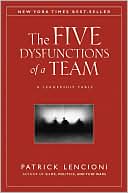 Lencioni, Patrick
The Five Dysfunctions of a Team (2002)
San Francisco: Jossey Bass
ISBN# 0-7879-6075-6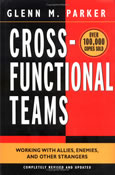 Parker, Glenn M.
Cross Functional Teams: Working with allies, enemies and other strangers (2003)
San Francisco: John Wiley & Sons Inc.
ISNB# 0-7879-6085-3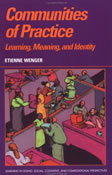 Wenger, Etienne
Communities of Practice (1998).
Cambridge: Cambridge University Press
ISBN 0-521-66363-6
Consulting/Facilitation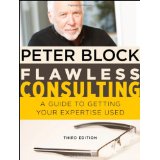 Block, Peter
Flawless Consulting 3rd Edition (2011).
San Francisco: Jossey-Bass Pfeiffer
ISBN 0-89384-052-1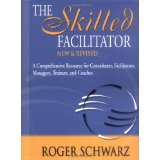 Schwarz, Roger M.
The Skilled Facilitator: Practical Wisdom for Developing Effective Groups Revised (2002).
San Francisco: Jossey-Bass Inc.
ISBN 1-55542-638-7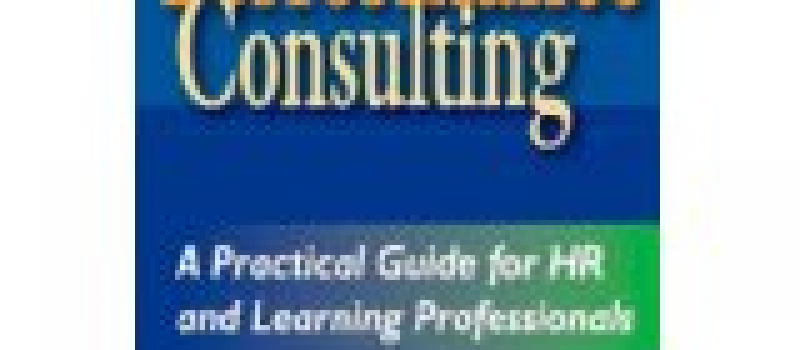 Robinson, Dana Gaines & Robinson, James C.
Performance Consulting 2nd Edition (2008).
San Francisco: Berrett-Koehler Publishers Inc.
ISBN 1-881052-30-3
Cockman, Peter; Evans, Bill; Reynolds, Peter
Client Centred Consulting (1996).
England: McGraw Hill Book Company Europe
ISBN 0-07-707685-0